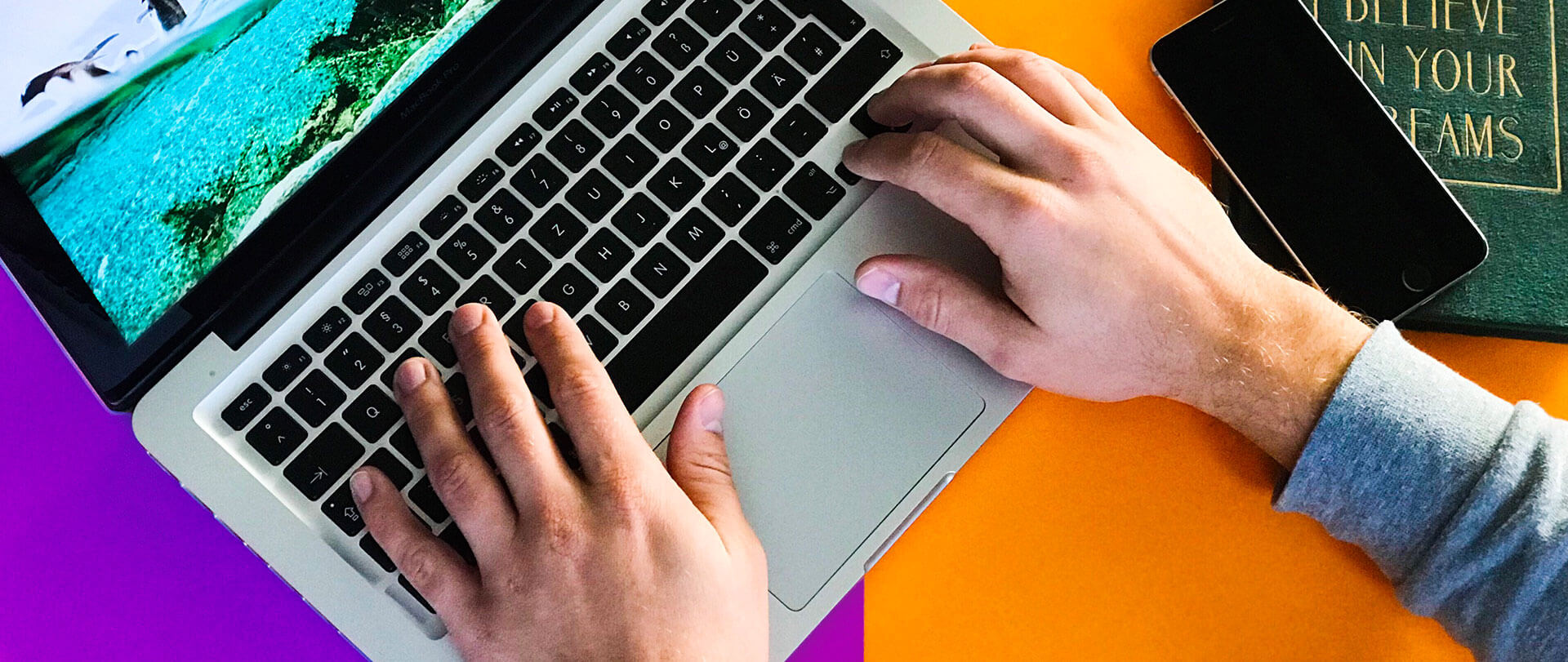 In today's digitally connected world, it's not enough to just provide a service well—you also have to market. No matter what type of business you're in, having a strong online presence can help increase the weight of your brand.
A strong online presence can grow your audience, engage existing customers and help you sell more easily. All of this begins with having a website that speaks to your business's unique offerings and message.
Creating a website can seem daunting, but you don't have to do it alone! Upwork has hundreds of skilled independent professionals with extensive experience in web development that can partner with you in building your website. If you decide that building a website is something you want to do on your own, there are many tools at your disposal to make this process easier. This step-by-step guide will show you how to:
1. Define your vision for your website
Before you can dive into website building, you'll need to do a little bit of homework. You'll want to begin planning what you want your site to accomplish. Is your goal to drive more readers to your blog? Do you want visitors to make a purchase? Once users hit your site, what do you want them to do?
Asking yourself these key questions will help you define your website's purpose. From there, you'll also need to consider the website's function, design and content.
Function
Here, you'll decide the main objective of your website. Maybe you provide a service, like consulting, and want to encourage users to reach out via a contact form. Perhaps you plan to sell products in an online store and need an e-commerce platform that allows users to view specific product pages. Or maybe your objective is to educate and create readership.
Take some time to think about how your website can best serve your business and keep this function in mind as you begin to build.
For example, suppose you're a photographer and need to showcase your skill set. In this case, the main function of your website would be to display your work. On the other hand, if you run a communications agency, the main objective of your website would be the specific services you provide (public relations, content development, marketing, etc.).
Design
It's important to have an idea about what you want your website to look like. Perhaps you're looking to create conversations by showing users a portfolio of work. In that case, you might want a grid-like layout with templates that are easily repeatable to showcase new work.
You might decide on-brand colors, logos, and specific imagery that ties into the overall look you're hoping to achieve. Whatever web design you choose, make sure it's flexible enough to serve your function and simple enough to maintain. It should also align with your brand's personality. ‍
Content‍
What type of content will you need to live on your new website? Creating a quick sitemap of the pages that you're hoping to create and what needs to be on each is a great way to get organized. You can easily do this in Google Sheets or Excel.
Once you've chosen your pages (for example, "Home," "Blog," "Testimonials," "Portfolio," and "Contact"), decide what information you want to put on each page. If it needs to be created, make that a priority. If you already have content, start compiling it.
2. Purchase a domain name
Next, decide on a domain name for your website. A domain name is an address visitors use to find your website. For example, if your business is "Sydney's Catering," pick a custom domain that easily describes your business. You can choose your business name, but you'll need to do a quick domain search to determine if the name is available. It's best to compile a list of possible domains before running a search.
Domain registrars are accredited companies designed to help you buy and register a domain name for your website. While there are many domain name registrars, a few are Domain.com, Bluehost, and GoDaddy. To see if the domain you're hoping to use is free, run a search on a domain name registrar site. If the name you want is available, great! If not, keep trying until you find one that's not already taken.
Once you find a domain name, the registrar usually makes it easy to purchase it online, giving you access to your domain in minutes. Domain names typically cost somewhere between $10 and $15 annually. However, there are free domain name options available, usually included as a special offer to new users by the registrars listed above.
3. Choose a hosting provider
Now that you have a domain name, it's time to find a hosting company for your website. Choosing a hosting provider is important, especially if you plan on conducting business primarily through your website. Websites need storage space for files, images, and content. Where is it stored? Web hosting provides a physical location for your website content.
For this reason, it's important to look for a hosting provider that offers enough bandwidth for the site traffic you anticipate receiving. If you plan on starting small, look for a plan with upgraded options that you can select at any time to boost your bandwidth.
Security is also a concern when choosing a web host. If you want to keep your site secure and handle minimal updates on your own, select a hosting service that handles routine web maintenance and offers security features like an SSL certificate, which will ensure users are protected when accessing your business website.
It's important to research web hosting providers, as your website's needs might be unique. When choosing a hosting provider, consider the amount of storage you need, the guaranteed uptime, and the budget.
While there are many web hosting companies, here are some popular hosting providers:
‍
4. Pick a website builder
Now, you're ready to select a website builder. There are many user-friendly platforms, so you'll need to keep your function and website design concepts in mind when choosing a platform.
Here are a few attributes to consider when selecting a website builder:
Customization options: If you like to change your design often, you'll need a website builder that is easy to change and customize. Finding a website builder with a lot of templates can help you redo the look and feel of your site without much overhaul. The good news is that you don't have to know a thing about front-end development for different platforms—you can find a skilled web designer or web developer on a platform like Upwork.
Features: If you're building a blog or portfolio site, make sure you find a website platform that offers easy-to-use portfolio and blog post options or widgets. If you'll be adding videos to your website, find a web builder that makes it easy to add video code to your site. Lastly, if you want to sell products, pick a site that makes it easy to conduct online sales, like WooCommerce or Shopify.
Usability: No matter your experience with website platforms, make sure you find a website builder that's easy to use and update. Many builders offer free trials, so you can poke around and begin building, allowing you to find the most intuitive interface.
SEO practices: Making a website is only half the battle—you also need to draw traffic to your site. It's important to find a site that makes it easy to incorporate SEO tools, from meta descriptions and titles to keywords and tags.
Price: Luckily, most website platforms are similarly priced or have free trial options, but remember to keep the monthly or yearly cost in mind when selecting a platform.
Knowing the basics about website builders is a good start, but how do you choose one for your new website? Determine your goals. For example, if you're a designer wanting to display your projects, choosing a website builder that is customizable might be your best option. On the other hand, if you run a jewelry business, you may want to look into a site with good e-commerce options and one-click shopping.
Here's a quick glance at popular website builders:
5. Select a website theme
Now, it's time to consider your website's theme. This process can feel a bit overwhelming since many web platforms offer so many options.
Here are some key components to keep in mind when choosing a theme:
Look and feel: This is the most important aspect to consider. Finding a theme that matches your website design vision is important. But don't just fall in love with a design and select it—do your research. You'll also want to check the theme details to make sure key areas are easily updatable so that you can customize them for your website.
Popularity: You may decide you want a theme that no other sites are using. However, if you will need assistance with web development, you'll want to find themes popularly used by developers. A good web developer can easily tweak your look and feel to make any theme feel like your own. Keep in mind that you'll have more options when choosing independent web talent if you opt for a theme that's more well-known or widely used.
Responsiveness: These days, finding a responsive theme isn't optional. With so many people viewing websites regularly from mobile devices, it's important to find a website theme that's not only responsive but also allows you to edit your settings to customize better how pages will look on certain devices and screen sizes.‍
Additional plug-ins, extensions, and apps: Some plug-ins work better with certain themes. If you already know of plug-ins, extensions, or apps you'd like to use, make sure they're compatible with the theme you choose.
While a DIY approach to website building might work for some, not everyone has the time, artistic eye or expertise to pull it off. Engaging an independent professional can help you build a professional website that meets your business needs. For example, an independent web designer can bring your ideas to light while also offering a unique perspective regarding website needs, usability, font type and size, website load speed, etc.
There's a lot to say about getting the professional-looking website of your dreams. With Upwork, you can find experienced web designers offering hourly pricing within your range.
‍
6. Plan and produce page content
Remember the sitemap you started building in step one? You're ready to put it to full use. You'll want to lock down every page you'll need on your site and decide which content will be placed on your homepage, which pages fall into the navigation menu, and which should only be accessed through links and buttons across your website.
Once you have your final page list, it's time to determine how each page should look and the content you'll need. If you already have some designs or content to use, great! If you need more, you don't have to go through the process alone.
Create a content plan (such as coming up with a few blog ideas to start with) and work with independent designers and/or writers on Upwork to fully flesh out each webpage.
Just be mindful of including keywords in your website's content. When it comes to search engine optimization (SEO), keywords can be as little as one word or a longer phrase. Either way, keywords alert search engines (e.g., Google) to what your page is about. Using targeted keywords can increase organic search traffic to your website, increasing brand awareness and converting potential customers.
7. Add functionality for your business
You're ready to add extra functionality to your website to enhance the user experience further. Here are a few options to get started with:
Scheduling apps: Do you want users to be able to set appointments? Integrating scheduling apps like Calendly or Square Appointments would be your next step. Look for the app you'd like to use and make sure it's added to the correct pages on your website.
Media plug-ins: Will you be hosting a large number of pictures or videos on your website? Media plug-ins can help you better organize and store this content, enhance the way it looks on your website, and offer you more robust storage options.
E-commerce integrations: Do you need to be able to conduct sales on an online store? If you didn't select an e-commerce platform, you might need to consider integration with a tool that can accept payments on your behalf. You can keep this simple with PayPal or Venmo integrations or build more professional stores using WooCommerce, Shopify, or BigCommerce.
Account creation tools: If you want users to log into your site to gain access to specific content or shopping tools, you'll want to secure a plug-in or app that offers protected user accounts.
Security apps: Keeping your information secure, particularly if you're saving customer data like credit cards and passwords, is critical.
These are just a few additional plug-ins and tools to consider. Do some research on your niche to find more that are well-suited to your industry or connect with an Upwork web developer to discover other recommended tools.
‍
8. Start measuring key metrics
Measuring your website traffic is key to growing your business and making money through specialized campaigns or web ads. You can integrate services like Google Ads and Google Analytics.
Tracking metrics using free tools like Google Analytics can help you better understand your audience. Using cookies, Google Analytics can help you understand website traffic. For example, let's say you post on social media about a sale on your website. Google Analytics can provide you with details regarding who visited your site. Curious if you have repeat visitors or if you're attracting new customers? Google Analytics can show you data about new and returning visitors.
Google Analytics also provides information about how many interactions a site visitor had within a specific period. Sessions, as Google calls them, start when a user visits your website and finishes 30 minutes after any activity. Although sessions finish after 30 minutes, you can adjust your settings for how much inactivity will lead to the end of the session. In addition to sessions, Google Analytics can tell you the average time visitors spend on a specific page. This insight is great for understanding how engaged visitors are with the content you create.
Google Analytics can even tell you the type of devices visitors are using. This insight highlights the importance of a mobile-optimized site. It can also tell you if you need to work harder on mobile optimization. For example, an e-commerce small business owner might notice that their site's visitors are mostly on mobile devices. To ensure their shopping experience is seamless, they might invest additional time in optimizing the site's content for those devices.
There are also a variety of additional features you can pay for to better understand what users are doing when they visit your site. These include Ad Manager, Display & Video 360, Search Ads 360, and Campaign Manager 360. Furthermore, Analytics 360 includes customizable funnel reporting and access to advanced data and data-driven models.
‍
9. Test for bugs and compatibility issues
Before launching your site, it's important to test it for any potential bugs or compatibility issues. To get started, log out of your website (user experience can vary when you're logged in) and test all of the links on your site. Make sure all buttons and image links work properly.
You'll also want to test videos, contact forms, the navigation menu, and other apps to ensure they're functioning correctly.
Lastly, you'll want to test compatibility and responsiveness from various devices (phones, tablets, large-screen monitors, etc.). You should also view your site in different web browsers (Safari, Chrome, Firefox, Edge, Opera) to ensure there are no compatibility issues.
A QA tester can help ensure a full QA of your website and address and fix any bugs or compatibility problems.
‍
10. Adapt to keep up with customers
Once you've launched your new website, congratulate yourself! This is a major accomplishment that will bring you closer to achieving your business goals. Since digital media is at our fingertips, it's important to keep your site current and updated.
At this point in the website development process, it's time to take another look at key metrics. Are there certain keywords that bring in traffic? In this case, writing a blog post with search engine optimization (SEO) in mind can help you continue to target your audience.
Alternatively, you might have more projects to add to your portfolio. For example, you might have just taken wonderful wedding photos as a photographer—of course, you'll want to add new pages to your website. Ultimately, updating your website regularly will help keep your content fresh and increase organic traffic.
Build your website with the world's best
Creating a website that you can be proud of is important for any business. Websites attract new customers, bring in new readers and subscribers, and can help further legitimize brands and simplify the sales process.
Build your brand's new website quickly and effectively by recruiting the world's best web designers, writers, and developers. Let Upwork connect you with top talent across the world to build your website right the first time.