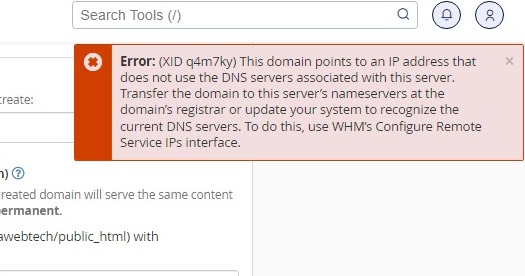 Symptoms
Adding a new domain to the server fails with the error:

This domain points to an IP address that does not use the DNS servers 
associated with this server. Transfer the domain to this server's 
nameservers at the domain's registrar or update your system to recognize 
the current DNS servers.
Description
This error occurs when the domain you are adding points to a remote host not associated with the server.
Workaround
There are three workarounds for this issue:
1. Update the domain registrar to point the domain to nameservers that are already pointed at the server (see: How to configure nameservers in a cPanel & WHM server).
2. Log in to WHM and navigate to "Remote Name Server IPs", then enter one of the IP addresses that one of the domain's nameservers resolves to. You can use an online tool to look up the nameserver IP address, or the dig utility, for example:

[root@server]# dig +short NS example.com
a.iana-servers.net.
b.iana-servers.net.

[root@server]# dig +short a.iana-servers.net
199.43.135.53
In the above case, enter "199.43.135.53" in the box, then select Save.
3. [Not Recommended] Allow remote domains in general. Enable the Allow remote domains option in WHM before creating an addon domain that is considered "remote". To do so:
Access WHM.
Navigate to Home » Server Configuration » Tweak Settings.
Search for Allow remote domains.
Enable this option and select Save.
It is best to only enable this setting temporarily to add the domain, then to disable it afterward. Refer to the description of the setting:
Allow creation of parked/addon domains that resolve to other servers (e.g. domain transfers) This can be a major security problem. If you must have it enabled, be sure not to allow users to park common Internet domains.